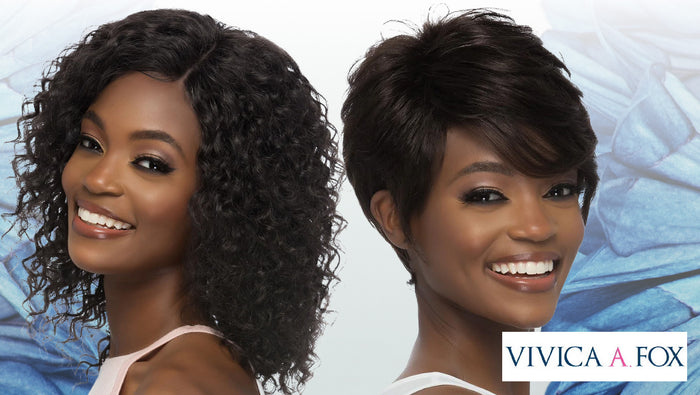 If you're looking for stylish wigs for African American women, look no further than Vivica Fox wigs. These celebrity wigs for women of color feature beautiful natural looks from long and luscious to short and sassy, straight and sleek to kinky and curly. With more than 10 years of partnering with a top African American wig manufacturer, you can be sure that your Vivica Fox celebrity wig will give you the beautiful, natural look you've always wanted.
+

Cap Size
+

Hair Type
+

Length
+

Texture
+

Construction
+

Hair Style
Get Some of the Finest African American Styles and Looks
Celebrity designed wigs? That may be music to the ears of those who want a hip, modern style and look, but is it too good to be true?
Those looking for a modern look that also looks natural will find their ideal wig with the Vivica A. Fox women's wig collection. The Vivica A Fox wigs and hairpieces for African American women began in 2008 with the partnership between Vivica A. Fox and Amekor, an American-Korean wig maker with 30 years in the synthetic hair industry. Amekor has a long history working with high-profile women of color, including actresses and beautiful models, who were revolutionaries that broke down color barriers when it came to fashion, style, and beauty. Today, in partnership with Vivica A. Fox, Amekor continues to design and constantly bring stylish, innovative looks and styles for African American women.
Each Vivica A. Fox African American wig and half wig is rigorously tested at their factory and use only 100% human hair and the finest natural-looking and feeling synthetic fibers. In addition, Vivica Fox is constantly experimenting with the latest technology and materials to give customers the softest, most vibrant and most manageable hair in the industry.
Whether you're looking for long and sleek or short and curly, you can find your perfect Vivica A. Fox African American wigs at Best Wig Outlet. Take a look at our Vivica A. Fox wigs today.