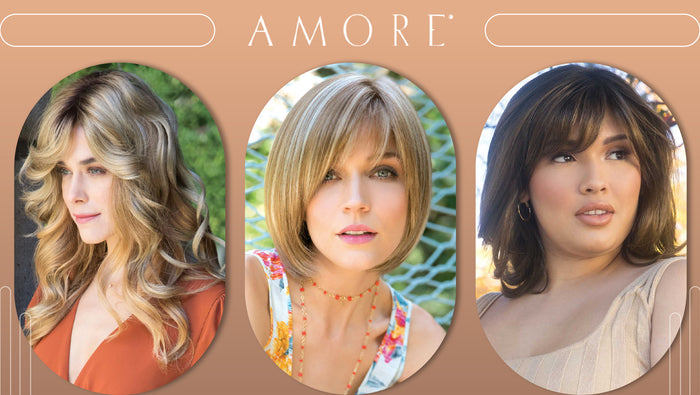 Whether you are seeking exceptional comfort due to hair loss, or scalp sensitivity, or incomparable stylishness to satisfy your inner fashionista, the Amore wigs collection featuring the 100% hand-tied monofilament lace front wig at Best Wigs Outlet gives you the look and feel you'll love to wear.
+

Cap Size
+

Hair Type
+

Length
+

Texture
+

Construction
+

Hair Style
+

Shop by Available Color
Cap Size
Extension Length
Construction
Getting the Best Wigs
Amore the medical wigs division of the hairpieces manufactured by Rene Of Paris. It is known for is comfortable and breathable monofilament cap and polyurethane tabs that make these hairpieces ideal for women undergoing hair loss and/or are experiencing scalp sensitivity. Amore wigs are also stylish and natural-looking thanks to the incorporation of realistic synthetic hair.
Each Amore wig is carefully made to precisely fit the wearer's specifications so they can be confident in their new look. With Amore's popular 100% hand-tied, monofilament, lace front wigs collection, you'll find the long, medium or length, way or straight wig, hairpiece, hair topper and hair wiglet that will just scream "you"!
Whether you're looking for a cute bob like the Marley hair wig, a look of long wavy locks or fun shoulder-length curls, come and browse Best Wigs Outlet's wide selection of Amore hairpieces to give you the look and style you want. You'll even find that our Amore wigs sale selection has some beautiful options for you.
Browse Best Wig Outlet's selection of Amore wigs to find the comfortable style that fits your personality and lifestyle.