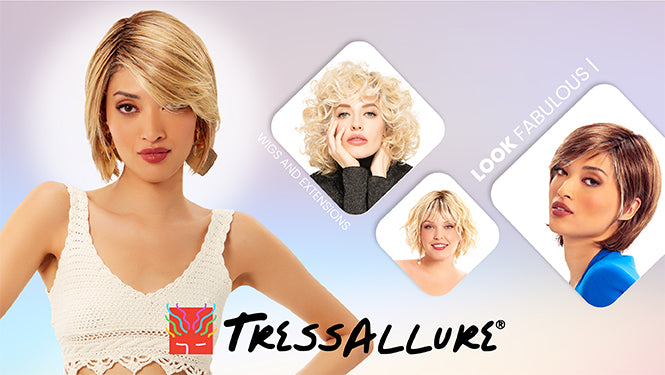 With TressAllure wigs, you'll experience the combination of artistic beauty and scientific precision and comfort. We stay committed to maintaining the standard of excellence we have always set in the wig marketplace. Here work blends art and science, craftsmanship and innovation. Through her relentless pursuit of excellence, she has become one of the most recognized wig designers in the industry.
You too can experience this rare combination of style and comfort in Best Wig Outlet's offerings of TressAllure wigs and hairpieces for women.
+

Cap Size
+

Hair Type
+

Length
+

Texture
+

Construction
+

Hair Style
Hair Type
Extension Length
Construction
Get a Custom-Fit Wig by One of the Best Wig Designers
TressAllure continue to provide quality products ensuring a positive experience for our valued cutomers. With TressAllure, you can choose from a wide array of shade variations and wigs and hairpieces that are carefully crafted with quality synthetic materials and fibers that produce natural, radiant looking hair. Each wig and hair piece is custom designed to provide the best fitting, secure, comfortable fit possible.
Whether you're self-conscious about your hair loss or you simply want to change up your current style and look, you can do so with the extra confidence of a comfortable, secure fit that is unique and custom to you. A natural look integrated with a natural fit offers you a superb style that you can boldly and confidently own.
At Best Wig Outlet, you'll find high quality, stylish and comfortable, custom-fitted lace front and monofilament wigs for women.
Browse Best Wig Outlet's selection of TressAllure wigs and hairpieces so you can find the most comfortable and best-looking style that fits your personality and lifestyle.