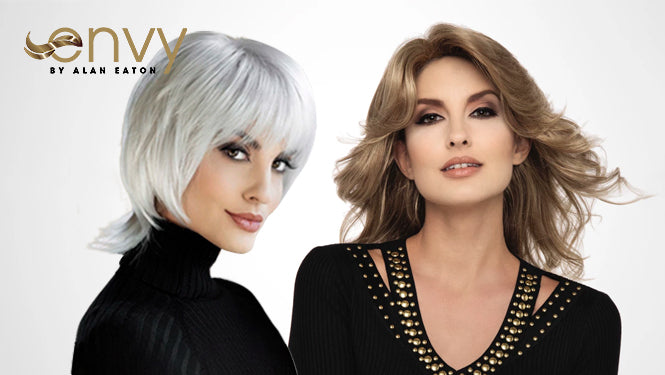 Be The Star of the Show With Envy Wigs
For more than 20 years, Envy Wigs has produced stylish, comfortable, quality synthetic and human hair blend wigs that women can change easily on a whim to best achieve the look they're looking for. What started out as a hair treatment option for women undergoing medical treatment, Envy has expanded its product lines to include their popular Mono Part, Lace Front and Open Top collections.
+

Hair Type
+

Length
+

Texture
+

Construction
At Envy, fashion isn't the only way women can get attention. Whether she's wearing couture or jeans and a t-shirt, a woman has what everyone wants: great hair. And you can too. As you explore the Envy wigs collection, you'll discover the silky, shiny, alluring hair women long for - and men fall for.
Artisans carefully construct each strand, cap, and style so that these wigs not only look great but also feels great, even on sensitive scalps.
Whether you're just seeking variety, style, or looking for a hair replacement that looks as fantastic as it feels, you'll find something perfect to wear every day. Choose from a variety of straight, textured, long, short, light and dark styles and looks. You can find human hair blend wigs, and even natural looking synthetic wigs. Make a confident presence in our open-top designs and soft monofilament part styles, be a natural beauty in our lace front and monofilament top looks, or be daring, yet demure, in our hand-tied hairstyles.
Browse Best Wig Outlet's selection of Envy women's lace front wigs, monofilament and human hair wigs, hair toppers, wiglets and medical wigs and get that look you've always wanted.